In Italy, there were three four small factories producing fishing reels: the most important as name is: ALCEDO.
I first detected the activity of the ZANGI, which produced fishing reels eddies in a warehouse in Tourin, Challant street. This in 1972, and I founded the CopTes: I produced Zangi reels with the CopTes mechanics.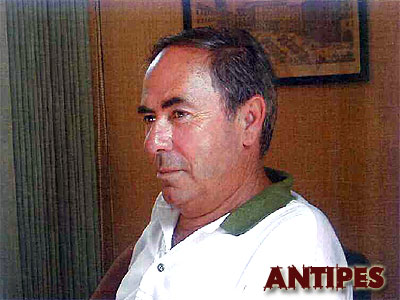 After two or three years, in 1975, Dr. Rolandi , who was the owner of the Alcedo, called me. He had both on armory and the fishing reels and asked me to buy his company because he was now 75 years old. At that time, I still had metal carpentry, but he convinced me to take over the Alcedo and so I moved its machinery from Tempio Pausania street to Challant street and so, for 15 years, I had both the Zangi and the Alcedo: two companies of fishing reels that, had been rivals ever since the war, in '45 -'48
Alcedo had a very important name because Dr. Rolandi had made a lot of publicity, while Zangi was less known because it worked mainly abroad and therefore did not need to advertise it self.
When I took over the Alcedo, I immediately realized that it was an important company: he had clients on Fifth Avenue in NewYork. He made an advertisement where Eisenhower and Khrushchev were together with the whirlwind with the words "Finally agree".
We shipped Alcedo reels to a Chinese dealer in America, very meticulous and precise: we shipped reels, but also spare parts.Once we had sent some chenille wire that will have cost 50 cents of dollar .... he sent it back because he said he had not ordered it!
While Zangi had a large customer in Vermont, where there was a famous factory of fishing rods and reels, the ORVIS, for which Zangi built also important reels, with stainless steel ball bearings that resisted the saltiness. Orvis ordered orders of 30000/40000 reels and sold them throughout the United States.
Then when the Japanese started to produce the fishing reels also , before going to distress I decided and sold everything.
The factory of Alcedo in Tempio Pausania street to Turin was a small reality; there were about 10-15 workers, while, Zangi was bigger but, it had a less important name than Alcedo: all remember the spinning reel model Micron produced by Alcedo!
In Turin, there was also the company "Albatros" that produced fishing reels long ago, but it was even smaller with 2 or 3 employees and did not bother us.
In Turin there were many companies producing fishing reels because it is the capital of mechanics in Italy.
Engineers from Fiat were working in Alcedo, who experimented on fishing reels out sidetheir working hours.
I think Turin was the first city to have a fishing reel company.
AIcedo was a more artisanal company than Zangi, even the bearings that were used were not planetary, but with thrust bearings, worked better under mechanical stress because they had less friction on the balls.
The Alcedo reels were the only ones to use the thrust bearing bearings.
Another feature that distinguished the Alcedo fishing reels from the others was the feet that they used "line roller guide" in agate and not in stainless steel like the Zangi, a less valid but still good solution. In this way the "line roller guide" in agate lasted forever and were not consumed by the nylon thread which instead also used stainless steel.
In general, the Alcedo reel, being handcrafted, was more rough, harder to use, but it was very popular and, had a good name. Dr. Rolandi (Alcedo) began his business with two engineers from Fiat because he was passionate about fishing.
You think that when I detected the first fishing reels company I did not even know what they were.
They were talking about reels ...
I thought they were referring to flour mills ...
I was not even a fisherman!
In my factory I had two departments: one producing the spinning reels, the other gears.
So I was producing bearings for fishing reels. When I took over the Alcedo, for the first time, the chief cousin of Dr. Rolandi, an expert of Alcedo fishing reels, came to work for me.
I no longer know any other Alcedo workers.
My trademark is the Coptes and I produced both precision gears and fishing reels.